Wight Aid supports hard working Park Volunteers at Northwood House
PRESS RELEASE – 21 February 2020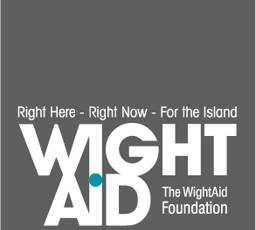 Wight Aid have presented Northwood House with a cheque for £358.18 to fund cordless gardening equipment for Park volunteers.
The 20 acres of parkland surrounding Northwood House is maintained by a dedicated team of volunteers who toil throughout the year maintaining hedges, shrubs, trees, borders and planters on the estate.
The park is open to the local community and visitors all year round.  Gentle paved paths cross the lawns with plentiful benches for visitors to sit and enjoy the stunning views across the Solent and wonderful specimen trees from the estate's origins as a Victorian Pleasure Park.  Tennis Courts, Bowls Green and the Children's Playground provide facilities for more energetic activity.
The park volunteers keep the paths clear, the shrubs in check and the borders in bloom.   The cordless hedge trimmer, strimmer and leaf blower funded by Wight Aid has made the volunteers work much easier, and has brought a big smile to their faces!
"We are very grateful to Wight Aid for their grant."  Said Dr John Pollard, one of the directors of Northwood House Charitable Trust Co Ltd.  "The team have relied on motley collection of donated equipment are delighted with these lighter more eco-friendly tools."
To join the park volunteers and help keep the grounds in top condition for residents and visitors to enjoy, please contact Northwood House office.
John Pollard added "To find out more come along to our Volunteers coffee morning on Saturday 4th April in The Stables (known locally as the community hall).  Coffee, Tea and very nice cakes will be available from 10:30 to 12:00."
Wight Aid present cheque to Darren Cool, General Manager Northwood House Charitable Trust Company Ltd
Park volunteers give a green "thumbs up" to the new equipment.
Eco-friendly light weight leafblower, hedge trimmer and clippers make Park maintenance much easier.
About Wight Aid
WightAID supports charitable projects on the Isle of Wight. Any project that benefits Island people or the places we cherish is welcome to apply for their grants.
Funding comes from Island companies, investors and individuals looking for an effective way to support the island's unique community.
 About Northwood House
Northwood House is an iconic grade II* listed Georgian manor house set in beautiful Northwood Park in the heart of Cowes.
The Estate has a rich history of hosting events and celebrations of all kinds.  Purchased in 1793 by George Ward, a successful London merchant, the House was rebuilt and extensively decorated by his son, George Henry Ward. Many lavish parties were thrown by the Wards throughout the Georgian and Victorian eras when the Island was a popular destination for the royal family.
The house was gifted to Cowes Urban District Council in 1929. In 2012 Northwood House Charitable Trust Co. Ltd was established to ensure the maintenance and development of the estate for the continued benefit of the residents and visitors to Cowes.
For further information please contact:   
'A charity working to preserve Northwood House and Park into the future'
Northwood House Charitable Trust Co Ltd
The Trustee of Northwood House Charitable Trust – Registered Charity No 276153
Registered Office: Northwood House, Ward Avenue, Cowes, Isle of Wight PO31 8AZ
Registered Charity 1150641 | A Charitable Company: Reg No 8025757 | VAT No 158 5092 89