Event Navigation
The Lawn Bar (Summer Weekends)
28th May - 2nd October

Hooray!  We are delighted to announce the re-opening of "The Lawn Bar" during summer weekends here at Northwood House.  You can at last enjoy a relaxing drink with friends and family once again in the safety of the great outdoors in the largest licensed outdoor venue in Cowes, if not the Isle of Wight!  With our uber-cool Balearic vibe, its like having a drink by the pool on a Mediterranean holiday, so forget traveling abroad this summer and stick with us here!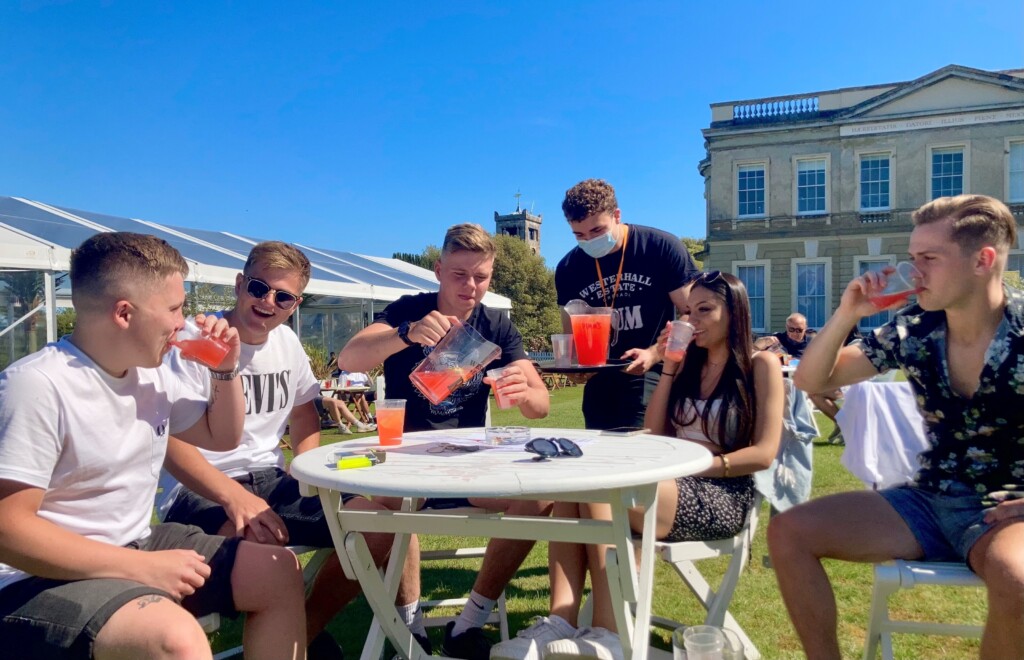 With a range of great wines, gins and pitcher cocktails, as well as trendy beers from our friends at Camden Brewery in London, the Lawn Bar provides a perfect social destination this summer for Islanders and visitors alike. No booking required, just come on down,  as we've got plenty of tables. There's always a cool mix of the latest music straight from the beach clubs of Ibiza, with the occasional guest DJ thrown in for good measure to soundtrack your visit.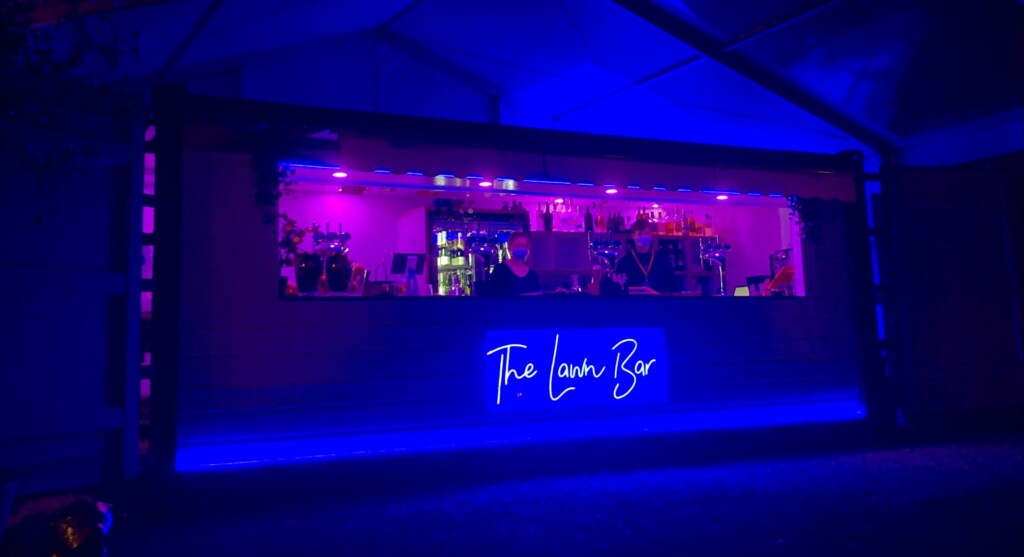 We will be having a number of guest caterers in to provide you with tasty food too. In June we have a Mexican-inspired menu from the girls at Mirabilis Catering, bringing you nachos, loaded fries and tacos to enjoy with your well deserved drinks.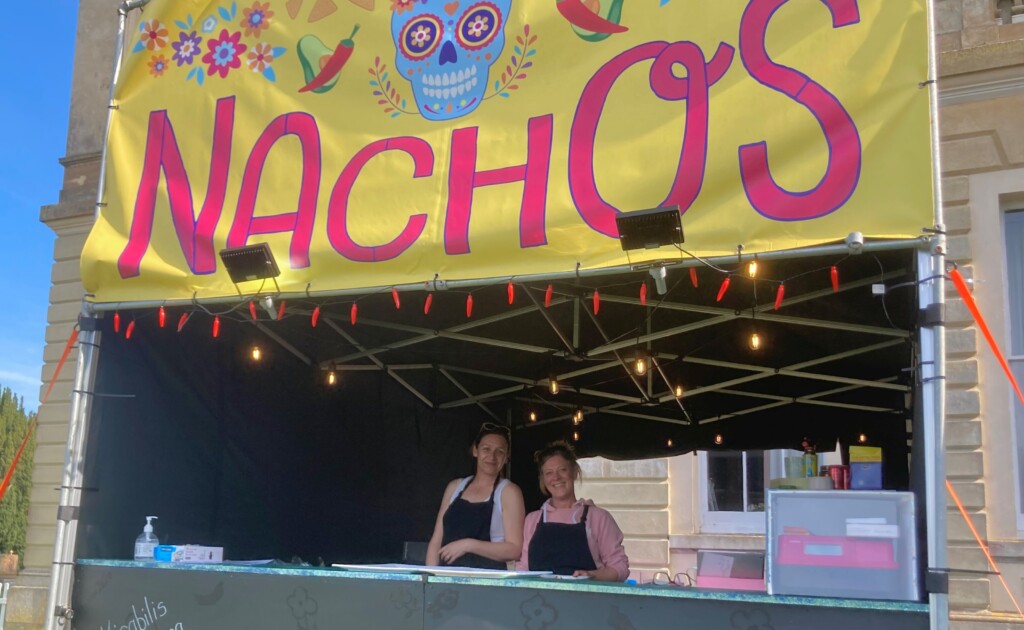 We've been working hard to make sure that we will be meeting the latest government guidelines regarding the opening of pubs and beer gardens to keep our customers and staff safe during the Covid-19 pandemic, so there will be a number of  rules in place again that we will all have to follow.  However, we know that you will work with us to make sure we do our best to meet the regulations, whilst all having an enjoyable experience at the same time.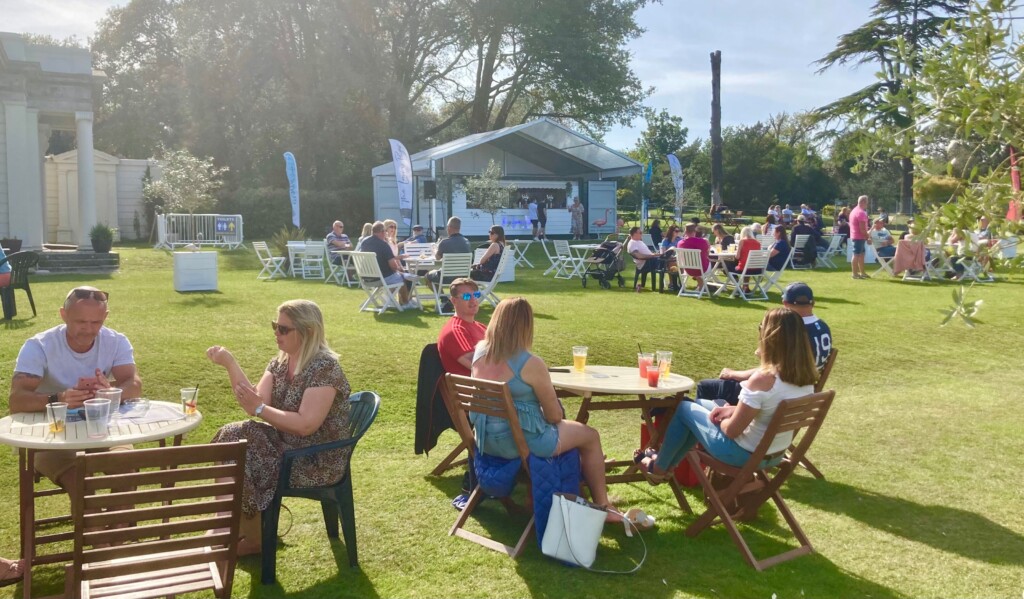 Social distancing and taking extra care with hygiene has become the new normal these days, so all of these measures will be in place when you visit us to keep you safe.  We hope by 21st June the rules may relax a little, but until then we can only offer table service for all drinks orders.  The good news is that we will have smart phone App for customers to order and pay for drinks nice and efficiently which are all the rage these days, but don't worry, our staff can still take an order and any payment face to face as well!  Remember to bring a face covering with you too…you will need to wear one to access the toilets.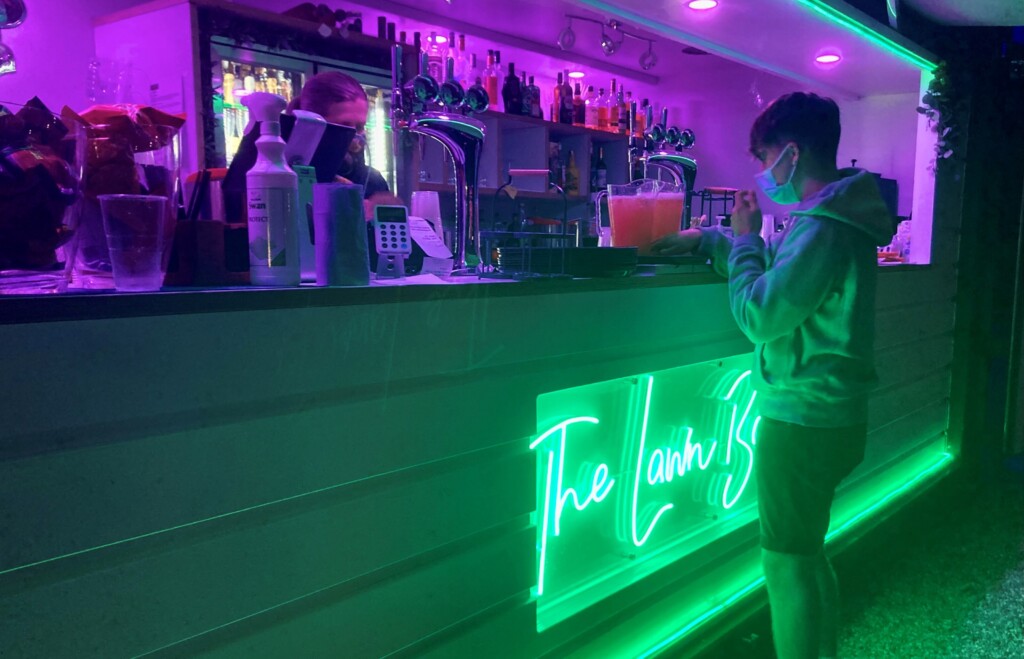 Opening times for The Lawn Bar are confirmed as follows:
Fridays: 4pm-11pm for after work drinks and letting your hair down!
Saturdays: 12noon-11pm- for sunny Saturday socialising with a Balearic inspired vibe straight from Ibiza
Sundays: 12noon-6pm- for chilled out Sunday relaxing!
*Times are subject to change at short notice. On wet/inclement days we may not open or open later/close earlier (with 20 minutes notice). See our Facebook page for latest information: https://www.facebook.com/northwoodhousecowes/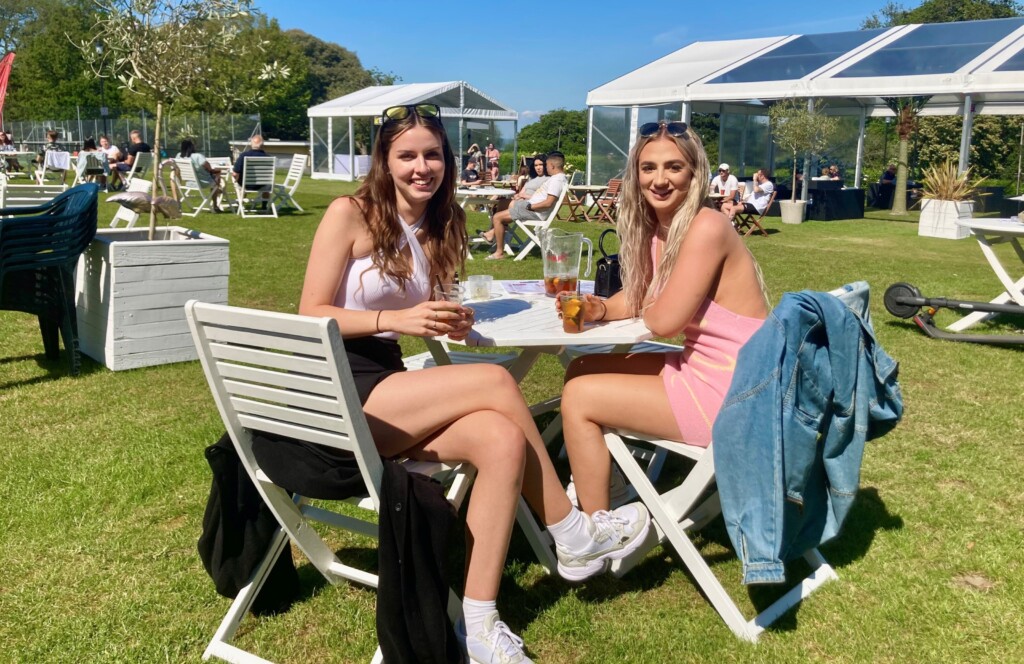 The Lawn Bar will compromise of a stylish "container" style bar with a marquee roof  cover, surrounded with lots of tables and picnic style seating on the House lawns.  We will also have a large open sided marquee available for some undercover seating and will be playing our usual uber-cool mix of Ibiza inspired lounge music, with chilled beats, relaxing deep house and some upbeat nu-disco to fit the mood of the day. We will be having some guest DJ's to join us during the summer, as well as the return of some live music with a little luck (watch this space for announcements).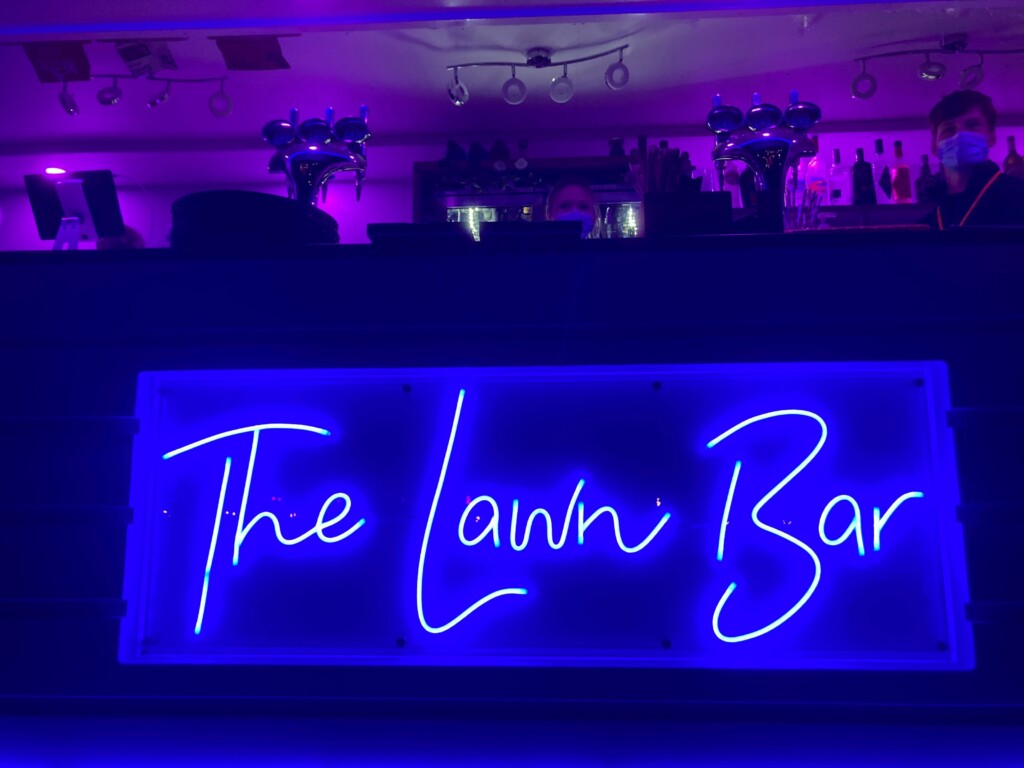 As well as bar snacks we will be joined by some guest event caterers to provide you with a range of tasty hot food.  More details to follow once confirmed.
What you need to know before visiting (sorry, we have to list the rules in advance!):
A full risk assessment has been carried out to make us Covid Compliant, meeting the latest Government guidelines for pubs and outside venues. We reserve the right to be enforce stricter rules than the guidance may indicate.
Please click below to view the Risk Assessment Document:
You must not enter if you have any of the Covid-19 symptoms, or have been self-isolating at home for any given reason within the last 14 days.
You must leave the premises immediately if you develop any Covid-19 symptoms while on site.
Every person who enters must check in with the NHS Test & Trace App or add their contact details to our entry register. You will be refused entry if you fail to do and will be reported to the authorities via 911. Your Test & Trace details will be held by us securely for at least 21 days and will be surrendered to the Local Authority and/or  NHS Test & Trace service if requested.
The lawns have a maximum capacity to meet regulations. Once all the tables and grass seating areas are filled there is a one group in-one group out policy.
Maximum group size permitted is now 30 people sitting at a table or on the grass (picnic style). However we prefer smaller groups of up to no more than 10 people please.
No under 18's admitted without parent or guardian.
Challenge 25  and alcohol licensing laws are strictly applied at all times. Staff  may challenge you  upon entry,  when they deliver you a drink to your table, at the bar (when normal service resumes) or just while you are seated if required if you look under 25 and haven't already shown your ID (photo driving licence or passport is all that is accepted). If you are unable to produce ID when asked, you will be refused service or can have your drink confiscated. If you've ordered through the App and you can't produce a valid ID if required (or that of the person you've ordered for) the drink will not be served and no refund will be issued. 

Bar closes 20 minutes before stated (or amended) closing times. If you or appear to be drunk or your behaviour is rowdy and unsociable  you will not be served and any alcohol will be confiscated without refund. You will also be removed from the premises by an SIA guard.

Entry/Exit is via a marquee at the lower lawn gates near the park tennis courts.
A 2m socially distance queuing system will be in place outside the gate in busier times. Please queue patiently or come back later. Queue at least 2m from persons not in your family or social bubble.
You must wait at the entry point until a member of our team invites you in to be seated.
All guests must sanitise their hands upon entry before officially checking-in.
You will shown to your table or grass seating area. Customers may wish to bring a cushion or small blanket for sitting on the grass if all tables are full.
You will be given a disposable printed drinks menu to share between the group.
You should remain at your table/demarked grass area at all times apart from when going to the toilets. Children should be carefully controlled and stay seated at all times.
Please do not move furniture while at the venue unless with permission of a staff member.
When moving around the lawn please respect other customers by remaining at least 2m from others at all times.
2m socially distanced queuing lanes will be in place to enter the main building to use the toilets.
You must sanitise your hands before entry to the main building to use the toilets.
Drinks are served in eco- friendly compostable plastic cups where possible.
Contactless card payment is preferred where possible if you are not using the table service App.
The House toilets will be monitored and cleaned regularly in line with our Covid cleaning policy.
You must wear a face covering while entering the building to use the toilet and all times when you are inside. You don't have to wear a face covering while sitting at a table.
You should wash your hands thoroughly for at least 20 seconds after using the toilet and stay socially distanced from any fellow users while using the toilet space. Upon exit, return directly to your table or seating area  using the one way system in place.
No dancing, shouting, rowdy behaviour or raised voices are currently permitted while at the venue.
Tables will be cleaned thoroughly between user groups and an enhanced cleaning schedule will be in operation at the venue on touch points and in the communal spaces.
Follow the guidance set out on any signage that is displayed for your enhanced safety.
Please respect our staff who will be doing their best to keep you and others customers safe during your visit. Their decision is final.
No food or drink to be brought on to the premises.
The right of admission is reserved and to eject any customer that do not comply with the rules. We will have no hesitation in calling the Police to assist us with any issues if required.
Please leave by the designated exit. Please respect our neighbours and leave particularly quietly when leaving the venue late in the evening, thank you.
We reserve the right to amend the opening and closing times at short notice, close early, open later or not open at all on inclement weather days. We will give all customers 20 minutes notice/drinking up time if we are closing early.
We reserve the right to review and change the policies set out above (sometimes with immediate effect or at short notice) to meet updated or revised guidelines.