Event Navigation
Cowes Week Event Parking
30th July - 6th August
£55.00 - £75.00
Event parking during Cowes Week
As well as the main pay and display car park in Park Road, competitors and visitors to Cowes Week can park in the official event car park which is located in Northwood Park, located half way up Ward Avenue.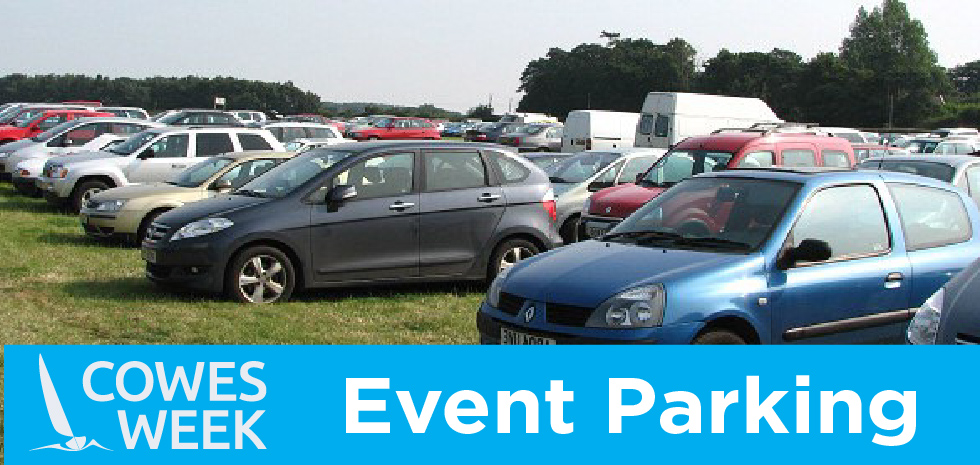 The event car park is open and staffed between 8.30am and 8pm daily from Saturday, 30th July to Saturday, 6th August for both cars and commercial vehicles. This year parking is being marshalled by the Isle of Wight Scout Jamboree committee.
Please park in our main Park Road Car park if you need to park before or after the event car park opening times and use the machines provided.
Parking costs £8.00 for the whole day or £6.00 after 3pm for the remainder of the day. These day passes can only be purchased upon entry to the event car park.
The field will be patrolled and PCN noticed can be issued for those who have not paid and displayed the correct parking tickets.
A week long car pass for  the grass parking (30th July -6th August inclusive) is available for £55.00 from the car park team on the field or by purchasing below.
Grass parking is also available for commercial vans (up to 7m in length) at £15.00 for the whole day, or £10.00 from 3.00pm. Again these can only purchased on the day of parking at the entry point.
A week-long van pass (for vans up to 7m in length) for grass parking is available for £75.00 by purchasing online below.
For larger commercial vehicles or lorries please email administrator@northwoodhouse.org
For those wishing to park from Friday 29th July, please get in touch directly to make arrangements.
If paying at the field, please be aware that the car park does have contactless card facilities which is our preferred way of taking payments where possible, although cash payments are welcome.
For other specific enquiries and pre-payment please call the Northwood House office on 01983 293642.
Please note: All event field car park users park and leave their vehicles at their own risk. The field is only manned and monitored between 8.30am and 8pm, after which times the car park will be closed for new entries.