Event Navigation
Murder Mystery Supper: A Strange Case for Sherlock Holmes
4th September
£18.00 - £150.00
Ever fancied being a super sleuth detective? If so, then our first Northwood House murder mystery evening supper is for you!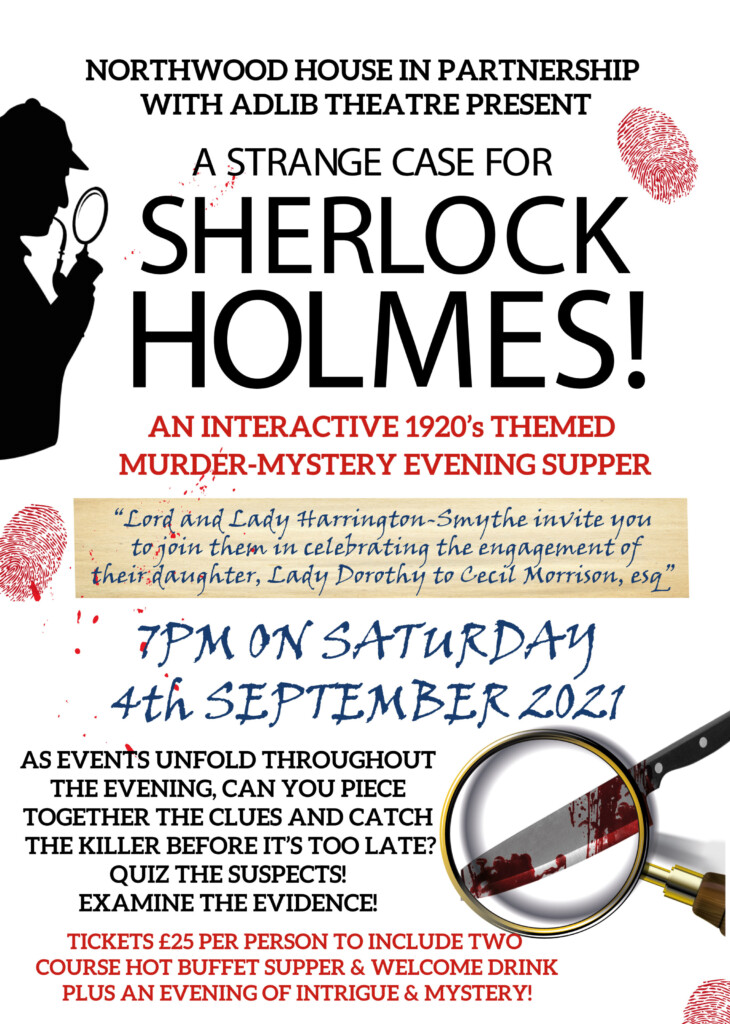 On Saturday 4th September, gather some friends and join us for a night of mystery and intrigue when a murder takes place at the engagement party of Dorothy Harrington to Cecil Morrison Esq. Dorothy's parents Lord & Lady Harrington, the owners of Northwood House will be your hosts for the evening and will welcoming you on arrival.
You'll be coming as invited guests to the party in the grand confines of the Northwood House Drawing Room and Ballroom where'll you enjoy a glass of bubbly followed by a two course hot buffet supper as you help to celebrate the engagement…but a murder is going to take place and you will need to help catch the killer before they strike again!
Luckily Sherlock Holmes is on the guest list to this high society event and will be doing his best to help unravel the murderous mystery!
Examine the evidence, solve the clues and help catch the killer before its too late!
Ticket Details:
Tickets: £25 per per person to include a delicious hot two course buffet supper and welcome drink.
Individual tickets and six person group tickets  can be booked for the supper, see bottom of page to purchase.
Bookings of 1-5 people will be seated with other like-minded guests to make up the table numbers.
Six person groups will be sat together with no other guests.
Event Details:
Arrive at the Northwood House Rotunda main entrance for 7pm (free car parking available in situ after 6pm).
The  evening is set in the 1920's…feel free to dress up if you wish!
Evening to conclude by 10.30pm.
The event is a collaboration is between Northwood House Charitable Trust & the Adlib Theatre Group, with proceeds from the evening going towards the charity's restoration funds.
Hot Buffet Supper Menu:
Beef or vegetarian lasagna, served with seasonal salad and garlic bread.
followed by
Lady Harrington's famous gin & tonic cheese cake with fresh cream and summer berries.
Wine list and drinks table service available. (pre-orders also available at the check out)
Please state your choice(s) of meat or vegetarian options at the ticket purchase check out along with other dietary requirements (allergen/vegan etc)
Murder Mystery Suppers events: What to expect
Some of you will already be familiar with murder mystery entertainments. However, for those who are not sure what to expect, here is a brief explanation: –
During the early part of the evening a gruesome murder is discovered! As the evening progresses you will have the opportunity to meet and question the possible suspects, examine clues and evidence from the scene of crime and with the help of a host detective, work out whodunit!
Actors provide the various characters but guests will be encouraged to become private detectives and investigate the crime. However, this is optional and of course, guests can just sit back, enjoy their food and drink and listen to others!
At the end of the evening, there is a light-hearted competition to see which party or group of guests came nearest to the truth, with prizes for some and certificates for all!
A great fun evening for friends and colleagues with enough mystery to get your 'little grey cells' working and humour to make you laugh out loud!