Event Navigation
Afternoon Tea with History Talk (Mothering Sunday)
19th March
£5.00 - £24.00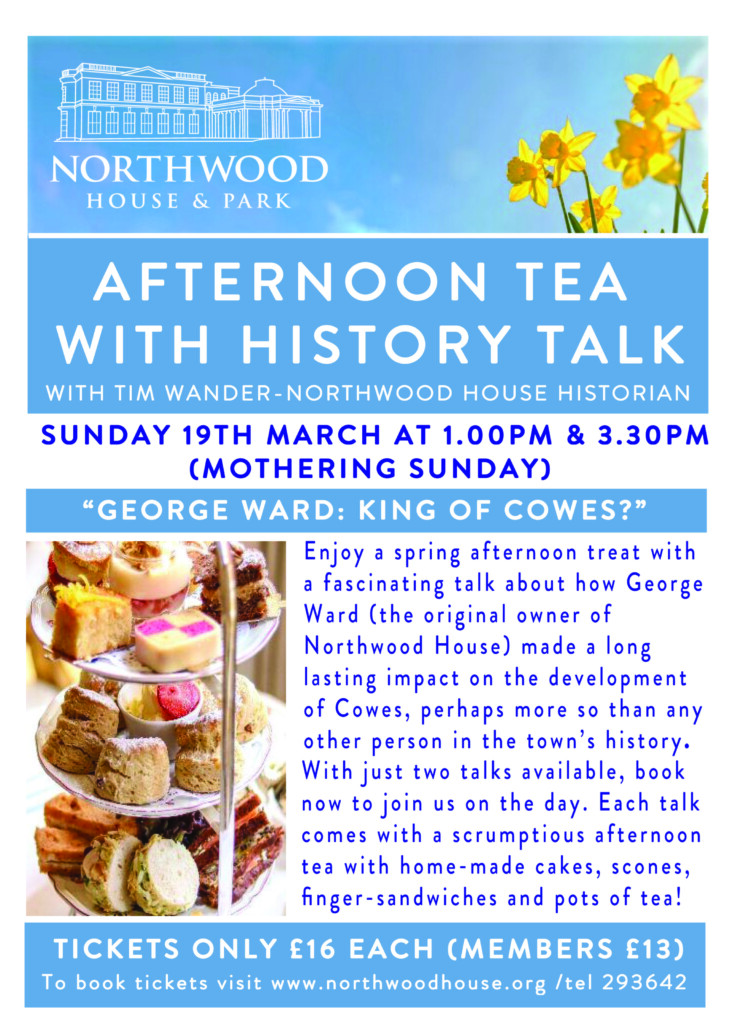 It's all about an afternoon of enjoying lovely food with friends and family while learning about some local history…join us for this special Mothering Sunday event.
Tim Wander, local author, house historian and charity trustee will give a fascinating talk about George Ward, the original owner of Northwood House who played a pivotal role in the history of Cowes in the early 1800's. Tim is a leading expert in the history of George Ward and Northwood House and has written several books on the subject. You'll be served a fantastic afternoon tea during the talk, brought to you by our award-winning volunteer event team.
Join us at either 1.00pm or 3.30pm for the experience which has limited space availability. The House bar will be open during the afternoon for additional purchases of alcoholic drinks.
The afternoon tea menu contains a selection of savoury finger sandwiches and bridge rolls, followed by a moreish selection of home made cakes, fresh baked scones (with clotted cream and strawberry jam) all washed down with a pot of tea, coffee or soft drinks (please state your choice when booking below).
Please state any dietary requirements and allergens on the ticket booking section which will be catered for on the day with alternative items on the table service menu. This must be stated in advance as extra dietary requirements cannot be serviced on the day without prior notice, sorry.
Ticket prices:
Standard tickets are £16 each.
Paid Members of Northwood House Charitable Trust only £13. (Purchasers of members tickets will be checked against the database of members to validate or will be refunded)
Option to add a flute or bottle of prosecco for your afternoon tea is available on the booking menu along with a Mermaid G&T.
Unfortunately you cannot change your food choices once you have booked online unless you call the office on 293642 by Thursday 16th March at 10am.
Individuals and groups of two or three persons booking will be seated on tables with our smaller groups and individuals. Groups of four up to eight people will be seated on their own table. Eight is the maximum table size for this event.
Please book all of your group in one transaction where possible so we know the total size of your group. The person booking will be the lead name on our table plan on the day. If you need to add a person to a prior booking, or if you are booking separately to other people in a group, you will need to add these details in the booking notes in the ticket section so we know who you want to sit with.
Fund Raising:
The event is to help raise funds for ongoing maintenance and restoration projects being undertaken in 2023 including the renovation of the last four rooms in the derelict Servants Quarter and well as repainting some exterior elevations of the main house.
Cancellation:
No refunds are payable for any reason  if you cancel your booking after Thursday 16th March at 10am when catering orders will have been placed.
Cancellation can only be done by email to administrator@northwoodhouse.org by the time and date above, which will be processed with in 5 working days.