Event Navigation
Comedy Social with Paul Kerensa
9th September
£17.50 - £36.50
Great news for comedy fans! The Comedy Social is back at Northwood House…so grab some friends, prime your giggle muscles and get ready for our next instalment….and what a line up we have for you!
Following our inaugural sell out event back in April we are delighted to present an exclusive evening of fantastic comedy with our amazing headliner, the very renowned UK TV scriptwriter Paul Kerensa, who'll be performing his stand up show for us live in the Northwood House Ballroom on Friday 9th September.
Paul has scripted a number of hilarious and very well known TV shows over the last 20 years including the BBC's "Miranda" and the  "Not Going Out" series, as well doing writing stints with Top Gear and Spitting Image…so this is a great opportunity not to miss if you're a fan of any of these great programmes.
Joining Paul Kerensa on stage at our second Comedy Social  is another Paul…the rising national comedy circuit star Paul Cox. Paul (number two) is also a writer and performer, best known for his hilarious anecdotes about his personal life. Born locally in Portsmouth (don't worry, we won't hold that against him!), he has performed stand-up all over the UK and is a member of the the London based sketch group, Unhinged. His debut Edinburgh show, 'Common People' received 4 stars from Edinburgh based magazine Ed Fest. He was also a  finalist in the prestigious Hackney Empire New Act (NATYS) in 2018 and a finalist for South Coast Comedian of the year in 2017.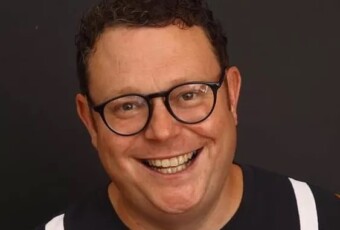 Paul Cox  is definitely an unsung talent on the UK comedy circuit, performing at some of the best clubs alongside the stars, where he is very much at home. He has supported Esther Manito on tour and appeared at the Byline Festival and Victorious in his home town of Portsmouth and we're delighted to have him on our second Comedy Social bill!
So what a line up we have for you this September…we can't wait and we hope you can't too?
So let's get social and have a laugh!
This is all about a sociable night out and doing something different in Cowes rather than going to the pub or out for dinner! So gather some mates or some girlfriends…or even the other half and come along!
The vibe is very much "comedy club", with a relaxed lounge and table seating plan…perfect for relaxing with friends on a fun night out! As well as the comedy we will have some great live acoustic music from popular local lads, Mr Mojo Duo, who'll be here to open and close the Comedy Social and entertain us during the interval.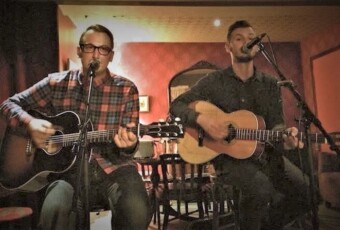 The Northwood House Lawn Bar will be open all through the evening for drinks and bar snacks. Guests are welcome to arrive early and enjoy a sociable drink and a pizza on the lawn (available from our guest local caterer Captain Pizza) any time from 5pm. Doors to the Ballroom will opened from 7pm for seating, with comedy kicking off at 7.30pm.
Comedy Social Schedule*:
5pm-Doors open and meet friends at the Lawn Bar for pre-drinks (and pizza?)
7pm: Ballroom doors open for seating. Mr Mojo Duo play live.
7.30pm: All guests seated: Tim Wander our MC will welcome you and introduce Paul Cox to the stage.
8.10: Interval-Live music from Mr Mojo and bar/loo break.
8.30: Our MC introduces our headline comic guest Paul Kerensa to the stage.
9.45 pm-10.15pm: Mr Mojo Duo playing & general socialising in the Ballroom and back outside in the Lawn Bar
(*timings are approximate only)
Ticketing
Tickets are available in advance only from the booking section at the bottom of this page, with inclusive drinks options available in advance if required:
Single admission ticket only: £17.50
Single admission ticket plus one choice of drink: Pint of Camden Hell's Lager /Off Menu IPA/ Medium glass of house wine (17.5cl)/Glass of Prosecco (12cl)/Mermaid G&T (25ml shot): £22.50.
Single admission ticket plus 75cl bottle of quality house wine (Merlot/Rose/Pinot Grigio): £36.50
All seating is unreserved 
The seating is arranged in various configurations of sofas and tables and available on a first come first served basis. We recommend groups of 3 or more people arrive early to get seats together as we cannot guarantee seats together for groups or parties. You may have to seating and tables with other guests, but that's how we role at the comedy social!
Age suitability and restrictions
The comedy social  is strictly for 18 year old's and over only due to the possible adult-themed content of the comedy. We reserve the right to refuse entry to anyone without valid ID/proof of age whom the staff management deem to appear to be underage.
Comedy content warning
We have no control over the content of the comedian's routines (and what would be the fun of that if we did?) but as with all adult comedy you should expect to hear some rude and offensive language and listen to content with strong adult and controversial themes.  If you are likely to be offended by such content then you should not book, as no refunds can be given.
Disclaimer: The material and opinions shared by the comedians are their own and are not representative in any way of  the venue and organisers (Northwood House Charitable Trust Company Ltd).
Photography
We allow photography during performances  (except in specific circumstances if requested in advance by a comedian), but any video or sound recording via a mobile phone or other recording device  is strictly prohibited.
Heckling/disruption during the event
We have a strict policy of no heckling whilst the comedians are performing their routine. This is disruptive to audience members surrounding you and also to the comedians on stage. Remember, people have paid to listen to the acts, not to you! Anybody repeatedly talking loudly/heckling/shouting out/acting in a disrespectful manner will be asked to leave immediately without a refund…you have been warned!
Cancellations/Refunds
Unless the event is cancelled or rescheduled in advance, all tickets for The Comedy Social  are non refundable…sorry.
So are you up for a laugh? Then get booking below. Seats are limited (and that's not a joke)..so don't leave it too long!