Event Navigation
Murder Mystery Supper: Overture To Death! (£29.50pp) SOLD OUT! Contact us to join the waiting list!
21st October
£14.50 - £236.00
Join us for our next much anticipated Murder Mystery Supper on Saturday 21st October entitled "Overture To Death"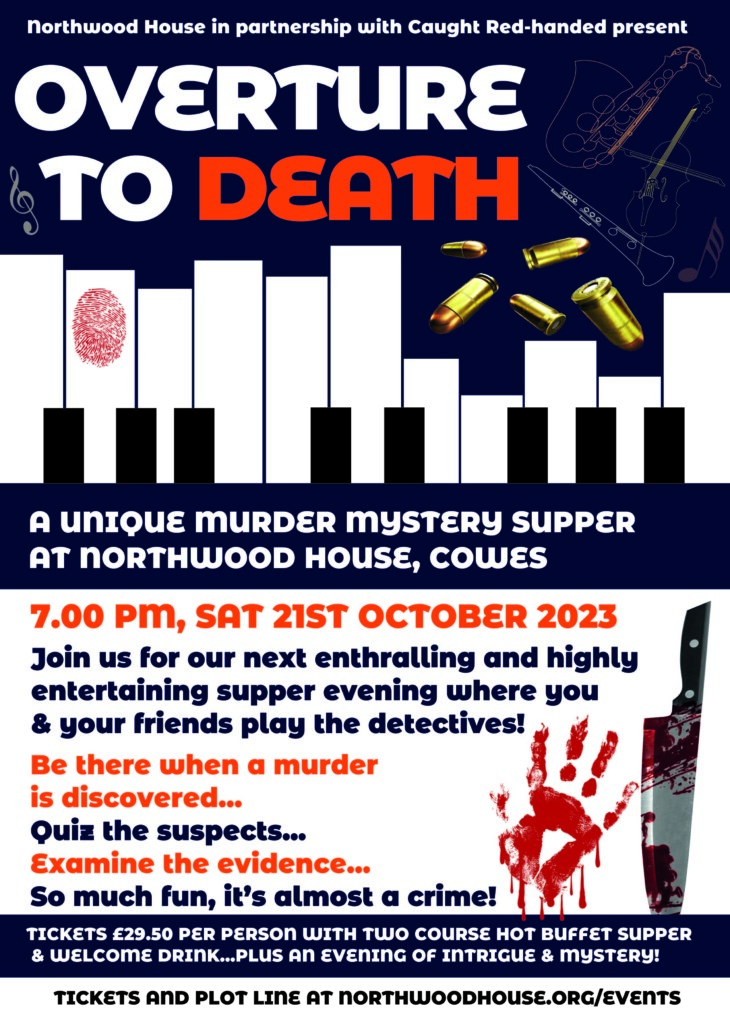 So what have we got in store for all of you budding detectives this time?! Let us set the scene….
"Northwood House is proud to announce that they are hosting ENCOUNTERS, a touring Jazz & classics supper club concept, featuring the respected Polish pianist, Aleksander Adamowicz. Invited guests can expect a delightful two-course hot buffet supper as well as a laid-back concert of some of the best European classical & jazz music. 
You can count yourself lucky if you are on the guest list as tickets for these exclusive evenings are strictly controlled by the ENCOUNTERS management team. BUT – will foul play strike a wrong chord and stop the music before it has even started?
With a murder shortly to be announced and a host of suspects to investigate, will you, like Miss Marple, Morse, Anola Holmes or even Jimmy Perez, be able to piece together the many clues to make sense of the evidence as it builds up during the evening?"
Quiz the suspects! Examine the evidence!
Check the pathology report! See the crime scene!
Will you be able to work out whodunit?
It's so much fun, it's almost a crime!
●  A highly entertaining and original murder-mystery plot line running through the evening hosted by that talented team from Caught Red-handed Productions!
●  Welcome drink on arrival (prosecco or house wine).
●  Delicious two course buffet supper from 7.45pm, interspersed with theatrical interludes.
●  Individual tickets and tables up to 8 people available.
●  Limited availability-book now to avoid disappointment.
●  Fun and suitable for wide adult audience (over 16's only).
●  The House Bar will be open all through the evening.
Please note: this is not a jazz concert, but a murder-mystery supper evening with a musical theme.
Brought to you by Caught Red-handed Productions. Providing murder mystery entertainments for over 30 years.
Ticket Details:
Tickets: Only £29.50 per person to include a delicious two-course hot buffet supper and a welcome drink.
Welcome drink: Choose a glass of prosecco or medium glass of house wine. Soft drink alternatives available.
Individual tickets and eight person group tickets  can be booked for the supper, see bottom of page to purchase.
Bookings of 1-6 people will be seated with other like-minded guests to make up the table numbers.
Seven or eight person groups will be sat together with no other guests.
Event Details:
Arrive at the Northwood House Rotunda main entrance from 7pm (free car parking available in situ after 6pm).
The House Bar will be open for pre-event drinks and the Drawing room open for mingling with other guests before being called to dine at 7.30pm…but keep your eyes open for any suspicious behaviour!
Evening to conclude by 10.30pm.
The event is a collaboration is between Northwood House Charitable Trust & the Caught Red-Handed Productions, with proceeds from the evening going towards the charity's restoration funds.
Hot Buffet Supper Menu:
Main Course:
Chicken & Bean Cacciatore served with freshly baked focaccia bread and a green salad
Or a plant-based option of: Tofu & Bean Cacciatore, served with freshly baked focaccia bread and a green salad
(Gluten-free variation with gluten-free bread on either main course)
Followed by a dessert of:
Belgian Chocolate Tart with fresh raspberries and cream (gluten-free )
(Plant-based variation with vegan cream available)
Wine list and drinks table service available. (pre-orders also available at the check out)
Please state your choice(s) of meat or plant-based options at the ticket purchase check out along with other dietary requirements. We may contact you to discuss specific dietary requirements if necessary.
Murder Mystery Suppers events: What to expect
Some of you will already be familiar with murder mystery entertainments. However, for those who are not sure what to expect, here is a brief explanation: –
It's a supper interspersed with themed theatrical entertainment based around a murder. Actors provide the various characters but guests will be encouraged to become private detectives and investigate the crime. However, this is optional and of course, guests can just sit back, enjoy their food and drink and listen to others!
At the end of the evening, there is a light-hearted competition to see which party or group of guests came nearest to the truth, with a bottle of bubbly for the winner and certificates for all!
A great fun evening for friends and colleagues with enough mystery to get your grey matter working and red herrings galore!!
Please note: this is not a jazz concert, but a murder-mystery supper evening with a musical theme.
Cancellations:
Requests to cancel your booking with a refund can only be made by telephone to the office on 01983 293642 during office hours before 5pm on Monday 16 October. After this time, tickets cannot be refunded, although you are welcome to find an alternative guest to take your ticket, but menu choices cannot be altered, sorry.