Event Navigation
Market in the Park- Exhibitor booking portal
20th July - 28th August
£25.00 - £140.00


Exhibitor Booking  & Information Page
Update 28th August: This weekend's market is now full: no further bookings can be taken, thank you.
Thank you for your confirming your interest in booking a stall with us at one of our August "Markets in the Park" here in Northwood Park, Cowes. We are hoping this will support many local businesses and event traders after a very difficult 2020 with very limited  trading opportunity across the Island.
You will already have received details about the opportunity directly from us (hopefully)..and only those approved by us to book may use this page to do so. If you haven't spoken to us before booking a space please do so first as plots are limited each week. Please email events@northwoodhouse.org and we will be able to tell you if we can accommodate you. If you book without having confirmation from us first we will simply reject and refund the booking (sorry!).
Northwood House and Park have become established as one of the Island's premier event locations over the last few years and gets well supported by local people and visitors when we host events at our venue. Many local businesses who have attended our other events will know that we get good footfall to the venue…with our location here in Cowes helping with additional footfall from the many tourists who visit the town in the summer which we will be tapping into.
More information:
"Market in the Park" Comes to Northwood House & Park in Cowes at August weekends
We are delighted to to be hosting this month-long series of weekend markets and hope to get a  fantastic selection of Isle of Wight businesses  taking a pitch in the beautiful park grounds selling everything from boutique art and craft to local produce starting from Saturday 1st and Sunday 2nd August.
Originally planned for Cowes Week, the new weekend markets will now give lsland residents and visitors alike the chance to support the many local businesses who have not been able to trade through the Coronavirus pandemic and who rely on events to support their income.
The outdoor market will meet all current Covid-secure guidelines to ensure the safety of all the traders and visitors alike, allowing everyone great peace of mind while enjoying a boutique shopping experience. The Northwood House Tea Garden and Lawn Bar will also be open during August weekends, giving visitors the chance to stay a while and enjoy a fantastic cream tea or glass of Pimm's on the lawns of the house while visiting. There will also be performances on Saturday's by the Island Based Horsebox Theatre Company, making for great mix of outdoor activity for everyone to enjoy.
And with Cowes High Street beginning to bustle again for the summer, its hoped that the extra visitors that the Market attracts to the area will also take the opportunity to visit the great selection of retail and hospitality businesses that the High Street has to offer, making it a win-win for the town.
What's the opportunity?
We are offering pre-booked stall holders only the chance to trade for both days of the weekend to maximise the sales opportunity in case of inclement weather on one of the days. So, if you book, you get two days of trading for one bargain price. This is an outdoor event, so you will have to provide your own gazebo and you wouldn't be permitted to trade from a vehicle directly unless be strict agreement in advance (this is not a car boot sale after all).
Where will the market take place in the park and how do we get there?
Stalls will be located in the picturesque central part of Northwood Park adjacent to the main House and Church and are accessed via the staff entrance drive down in to the park before the main rotunda entry drive. This is opposite house No 25 in Ward Avenue. Access is only available from 9am on the days and you should not drive in to the park unless directed by a gate steward who will be located on Ward avenue in a Hi-viz vest. If you do arrive early, you can park briefly on the field adjacent to the driveway and wait to be directed.
Please make an effort to make your pitch look attractive and colourful. Bunting and flags are very much welcomed.
What are the August dates that the market is happening?
Sat 1st & Sun 2nd  • Sat 8th & Sun 9th • Sat 15th & Sun 16th • Sat 22nd & Sun 23rd • Sat 29th & Sun 30th
Businesses can book any of the weekends or all five with a discount if required, we don't mind what combination you use.
What is the cost?
We are making this as cost effective as we can so that the financial risks are limited for everyone following these tough few months.
The cost for a pitch for the weekend is only £25 for a 3m x 3m plot, which will include additional space for your vehicle behind. You will have to set up and down on both days though and nothing can be left overnight as we can't offer night time security this time.  If you want a double pitch (6m x 3m) the fee is only £35 for the two days. No other commission is payable on sales, so what you take you keep.
With the low price and flexibility provided by the weekend arrangements, plots cannot be refunded once purchased even if the weather is bad on one of the days. It's very unlikely that two days in a row will be affected by bad weather, but that's part of the risk we all have to take to make things happen with outdoor events…and to allow us to keep the very low pitch prices.
You will of course be expected though to take your up your space for both days (unless the weather is foul and one day is cancelled) to preserve the integrity of the market.
What will be the open times be?
The market will be open for visitors on Saturday & Sundays from 10.30am-5pm which will be located in the beautiful park spaces around Northwood House.  Stall set up for businesses will be from 9am-10am in the morning, giving 30 minutes to sign off the site and place all the correct safety signage in place in readiness for visitors.
What about inclement weather?
In true British spirit the market takes place on all but the worst weather days. Having the market over two weekend days helps spread the weather risk for customers and stall holders. We reserve the right to cancel the market up to an hour before opening if it looks like the weather is going to stay foul all day and we will announce that via social media and at entry signage, plus a private WhatsApp group for the businesses involved. We reserve the right to open or close the market earlier or later if the weather or other factors make this the most sensible option. We know some weekends will have some wet weather, but we can only do our best to beat it and keep the offer consistent. The plot fee covers both days of trading and is not refundable once paid unless we cancel a whole weekend's market due to weather or other factors beyond our control.
What type of stalls/businesses are permitted?
Local art
Home-made craft
Plants and garden related retail
High quality retail (home/gift wear, clothing, pet products)
Local produce for take home consumption only (fruit/veg/preserves/sweets/cheese/packaged biscuits etc)
A selection of invited charity/community stalls
We will be providing our own refreshment and food options and so businesses offering catering or take away/"pick up and eat" food will not be permitted in the first instance, including cake producers, even though we know there are many of you out there who would like the opportunity. If we do find businesses trying to sell food items in this manner you will be asked to leave the site with immediate affect with out a refund.
What is the latest Covid-19 guidance about keeping ourselves and customers safe? 
The IW Council  Environmental Health Dept have been briefed on the market plans and have had oversight of the safety measures we are putting in place as and event organiser. However, as an event retailer you have your own obligations to keep yourself and customers safe on your stall to stop the spread of Covid-19. It is likely we will get an inspection on market days to make sure that everyone is complying to the guidelines and the rules set down. You could face a significant fine if you do not meet your obligations. If we all do our best to make sure we do everything to keep our customers and ourselves safe we should have an enjoyable experience trying to earn some extra income!
Market stalls are treated in the Government guidance in a similar fashion to all other retail outlets when it comes to keeping customers safe. Please refer to this for more information so you know what the retail guidance actually states. It is your obligation to make sure you know the guidance before you trade. This is a specific request from the IW Council  Environmental Health Dept. Click the link below to take you to the Gov.UK website:
https://www.gov.uk/guidance/working-safely-during-coronavirus-covid-19/shops-and-branches#shops-5-5
What extra measures will we be putting in place for Covid-Compliance? 
♥ We will complete a full Covid-19 Risk Assessment to make sure the event is as safe as it can possibly be for visitors, exhibitors and stewards. PLEASE CLICK BELOW TO VIEW THE DOCUMENT: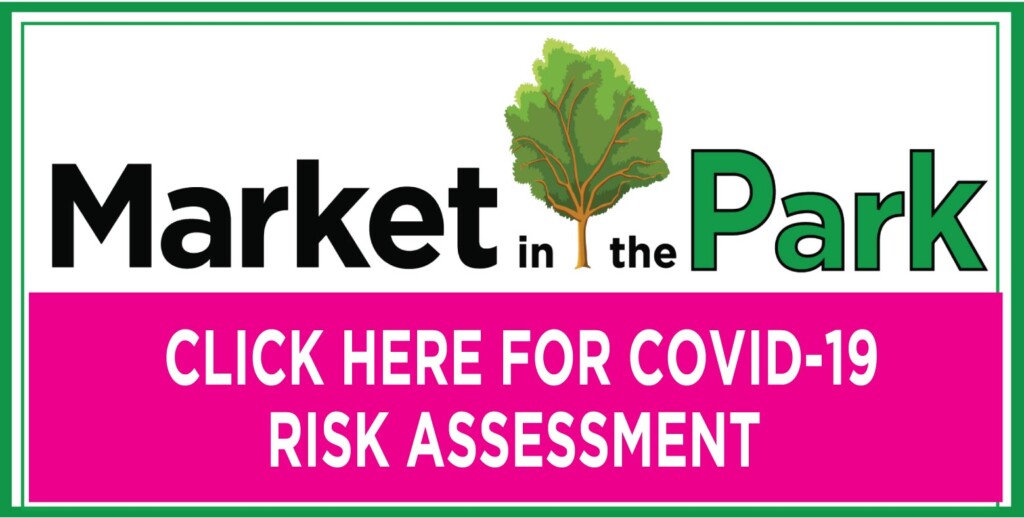 ♥ A one-way system for visitors will be in place with 2m social distancing rules (enforced by signage).
♥ Stalls will be spaced to give visitors plenty of space for waiting, browsing and walking by.
♥A hand sanitiser station will be in place at the entry/exit point to the market that all visitors must use upon entry and exit to the area.
♥Social distancing signage and general safety guidance will be on display through the customer aisles.
♥Our stewards will monitor entry and exit routes and provide customer guidance.
And what Exhibitors will need to do to meet Covid-19 safety requirements here:
♥Stall holders must provide hand sanitiser on their stand for customers to use while looking and browsing to keep everyone safe.
♥Stall holders must restrict customers from touching display items unless they plan to purchase them. Items that have been handled by customers and not purchased should be cleaned/sanitised before a new customer arrives. You should consider rotating stock off your stall to do this (refer to section 5.5 on the Government Guidance link above).
♥Stall holders must  sanitiser their own hands before and after serving each customer.
♥Stall holders must print off and display their own Covid signage for their stalls: Please use the link below to download and print off some approved copies (at least one of each sign per stall please) We can provide some printed/laminated copies on the day but we will charge £1 per copy to cover costs and time.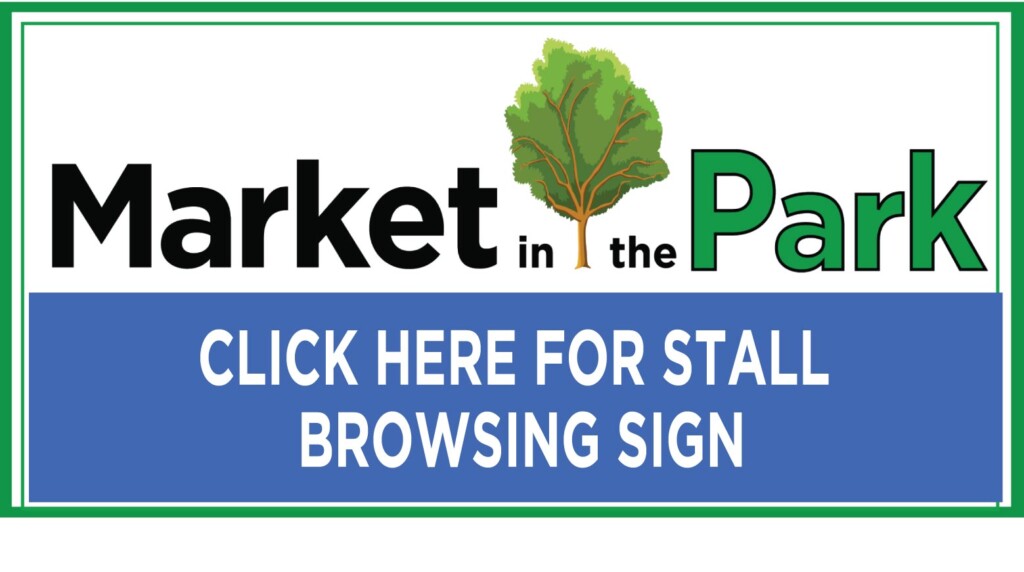 ♥Stall holders must make sure that they enforce social distancing rules in the vicinity of their stalls. This can be done verbally if required if customers need politely reminding.
♥Customers should not enter an enclosed gazebo to shop or browse and must remain in the open air at all times.
♥ Stall holders should step back while customers are browsing their stall to maintain good social distancing.
♥Stall holders should where possible provide contactless payment facilities where they can (subject to mobile connectivity in the park) to minimise the virus transmission risk from handling cash from customers. Cash payments can be taken, but hands must be sanitised after handling money from customers.
♥Stall holders should wear a face covering where 2m social distancing cannot be maintained between themselves and customers and especially if they are in higher risk groups. It is your responsibility to keep yourself and customers in your immediate vicinity safe.
♥Our stewards will be there at entry/exit points to monitor visitors and ensure guidelines are being adhered to.
Other terms and conditions exhibitors must abide by to take part:
♥You should have Public Liability insurance cover in place to cover your trading activity at the market. You should email a copy of  your valid certificate to us after you've booked to events@northwoodhouse.org
♥You must arrive and set up within the designated set up times  (9am-10am) to give time to put in place the various signage before we open the area at 10.30am. If you arrive after 10am you will not be allowed to set up.
♥You must have your stall in situ for the entire trading hours of the market (10.30am-5pm) of both weekend days unless given express permission by the event manager that you can pack away early on inclement days.You must make sure you can commit to both days before you book. We must preserve the credibility of the market by ensuring full attendance on both days.
♥Under no circumstances must your vehicle move from your plot during the trading hours of the market.
♥No naked flames, gas cylinders or  generators are permitted on site and vehicles engines must be switched off.
♥You must pack away your stall between the Saturday and Sunday events as we have no overnight security, sorry.
♥You may not be located in the same spot on consecutive days of the weekend or from one weekend to the next. No space can be reserved.
♥No catering or take away food concessions are permitted unless by prior and separate arrangement with us or until we deem it necessary to include some.
♥Should you arrive before 9am please park in the field directly adjacent to the Northwood House staff entrance drive and wait their for a steward. Please do not drive down in to the park until being directed. This entrance will  be signposted.
♥You must provide your own gazebo and must not trade from your vehicle unless by  advance permission.
♥You must take home all your own waste and rubbish at the end of each day.
♥No electricity or water is available on site for exhibitors to plug or plumb in to, sorry.
♥Any issues or incidents must be reported to the event manager as soon as possible.
♣Booking fees are not refundable under any circumstances unless we have to cancel both weekend days of the market in advance due to weather or circumstances out of our control. If one day or part of a day has to be cancelled, the booking fee is not refundable as it is a weekend fee, not a single day fee, sorry.
♥The Event manager's decision about any issue is final on the day and we reserve the right to enforce the rules set out above.
♥Exhibitors not complying to any of the Covid-19 safety rules and others Ts & Cs expressed here will be asked to leave the market arena immediately (and without refund of all or part repayment of their booking fees) and will not be permitted to return.
When you book, you agree to abide by these terms.
You wish to print a copy of this web page so you can refer back to it any time.
Other customer facilities/services:
♦Parking for visitors is available in the Park Road Car Park (pay and display) or on-street in Ward/Crossfield Avenue, subject to availability.
♦The No 1 Southern Vectis bus provides a regular service past the park every 15 minutes from Newport.
♦A set of public toilets is available in Northwood Park for visitors and exhibitors to use. Please bring a face covering and your own pocket hand sanitiser for using inside public spaces as a recommendation/precaution if you are worried about using such facilities.
Promote yourself and the event in advance by copying one of our ready made graphics to post on your own social media: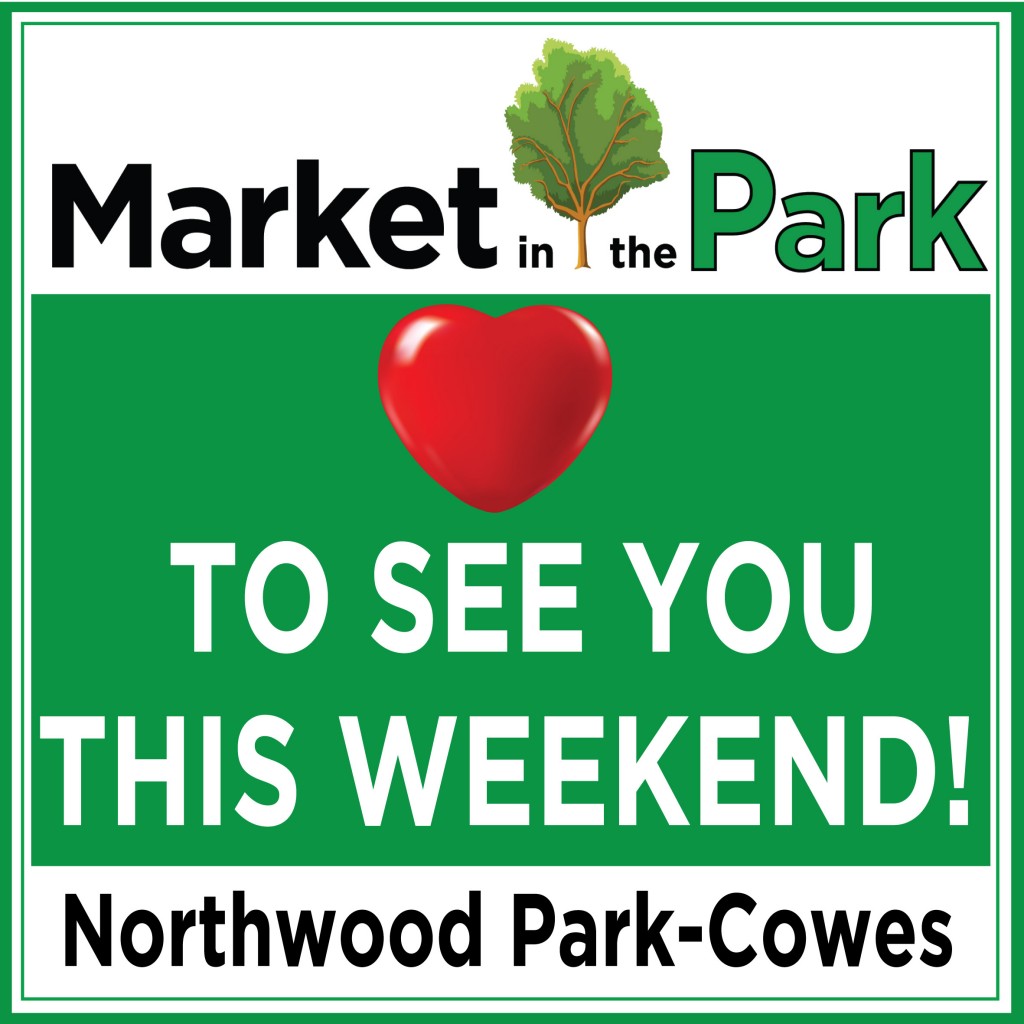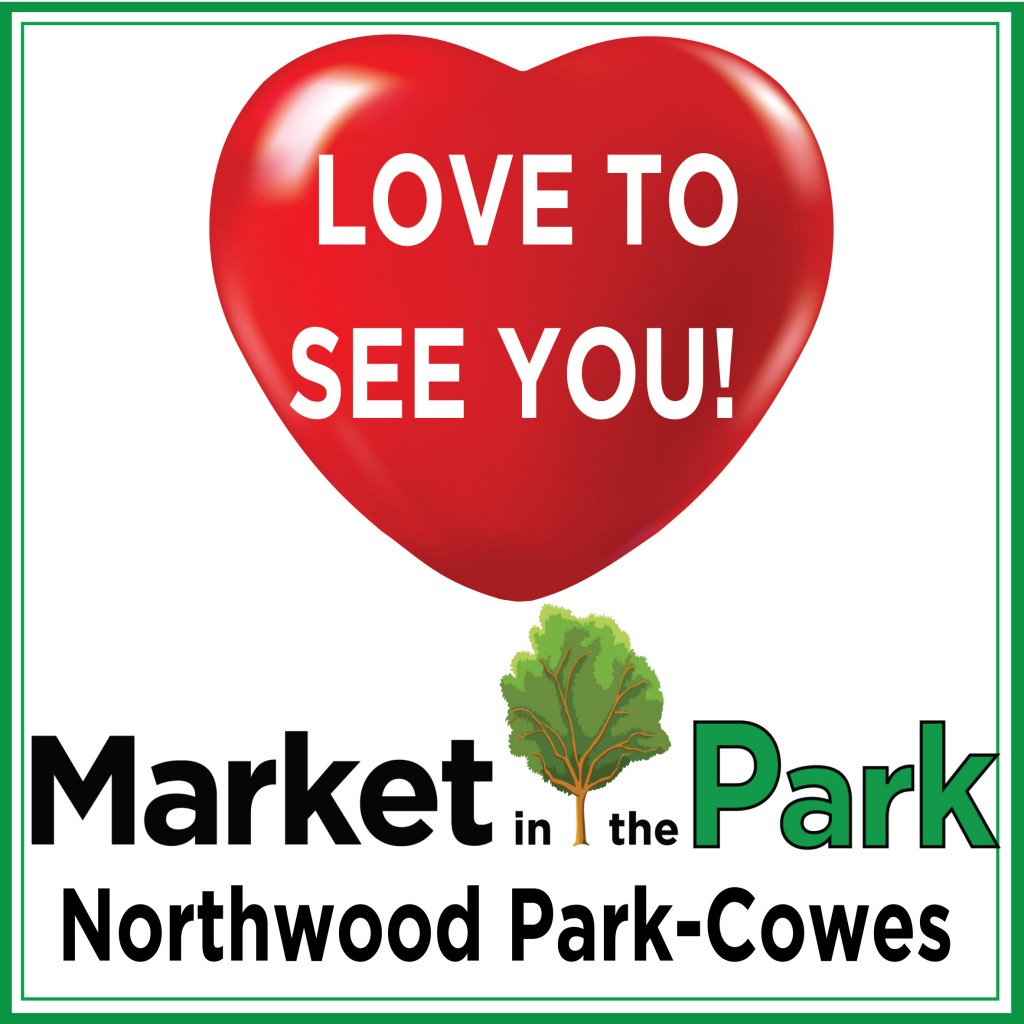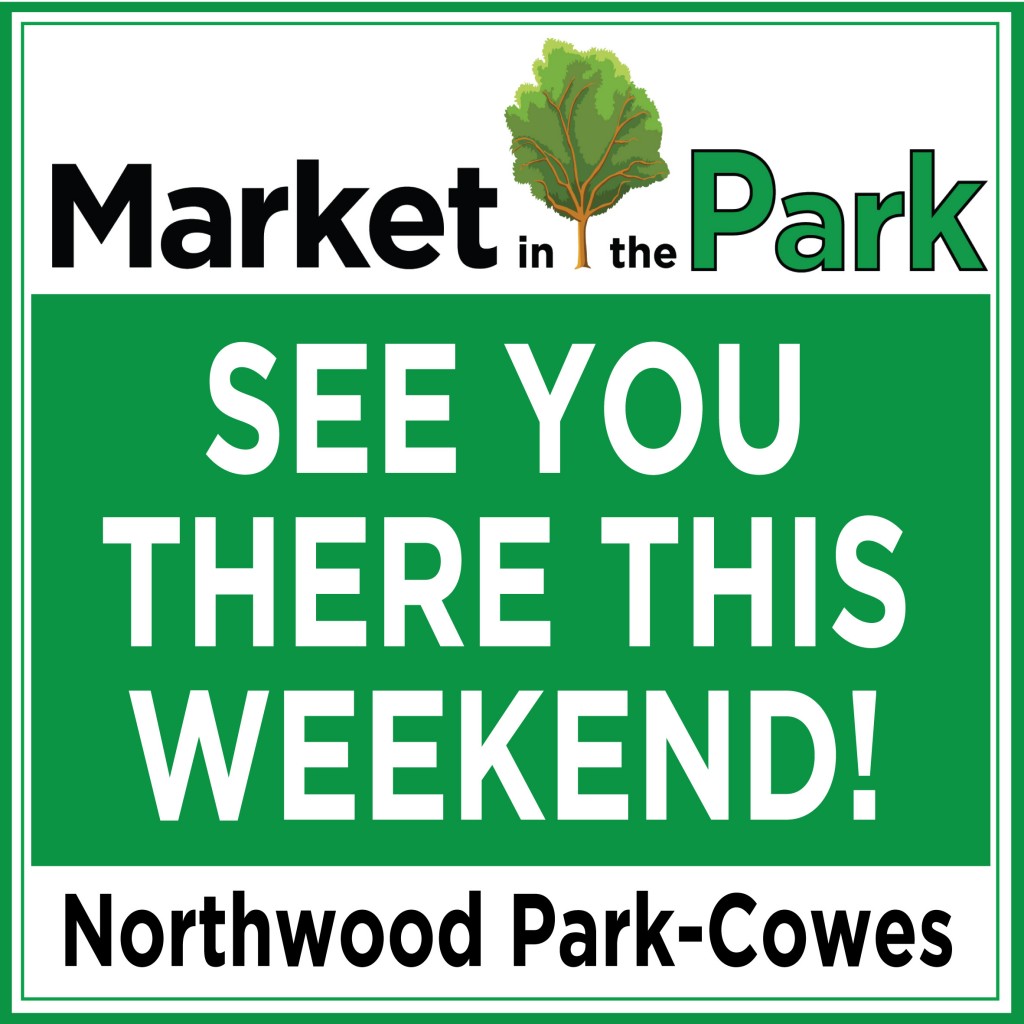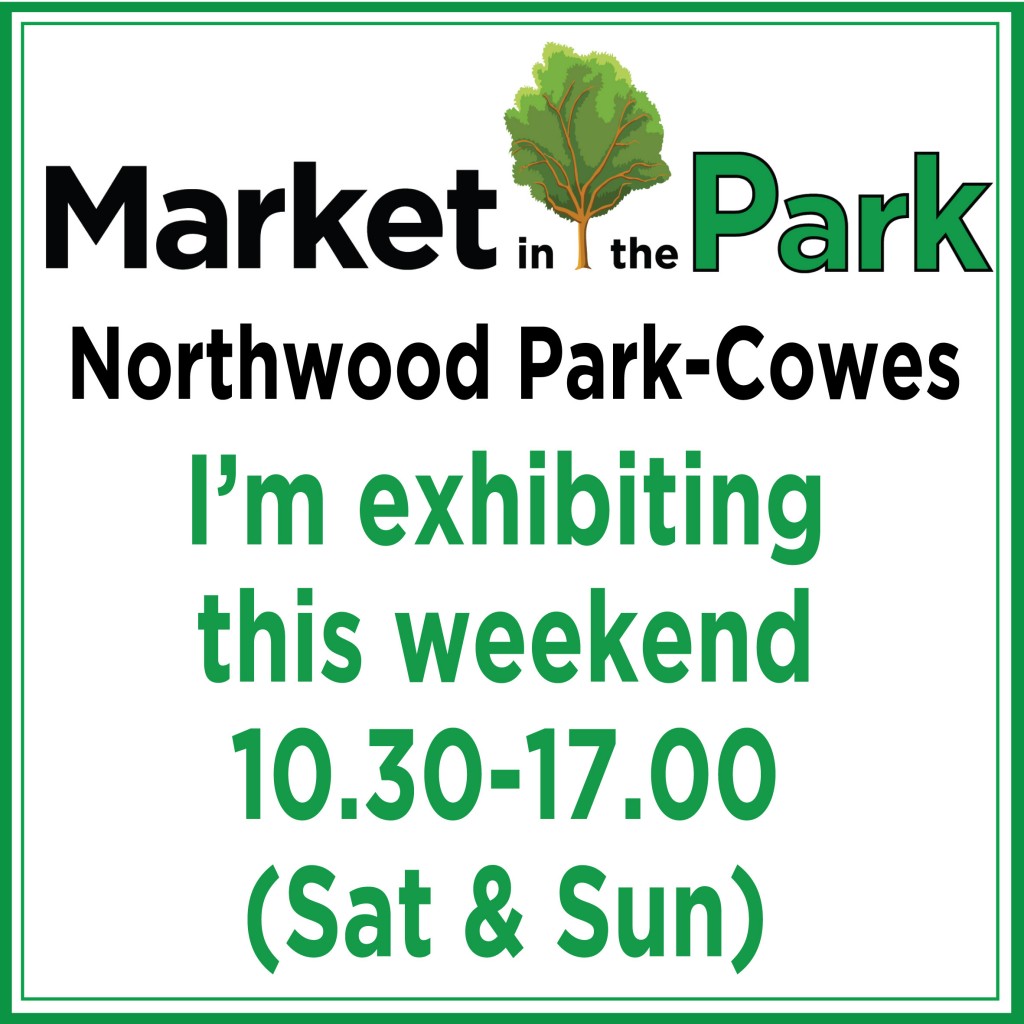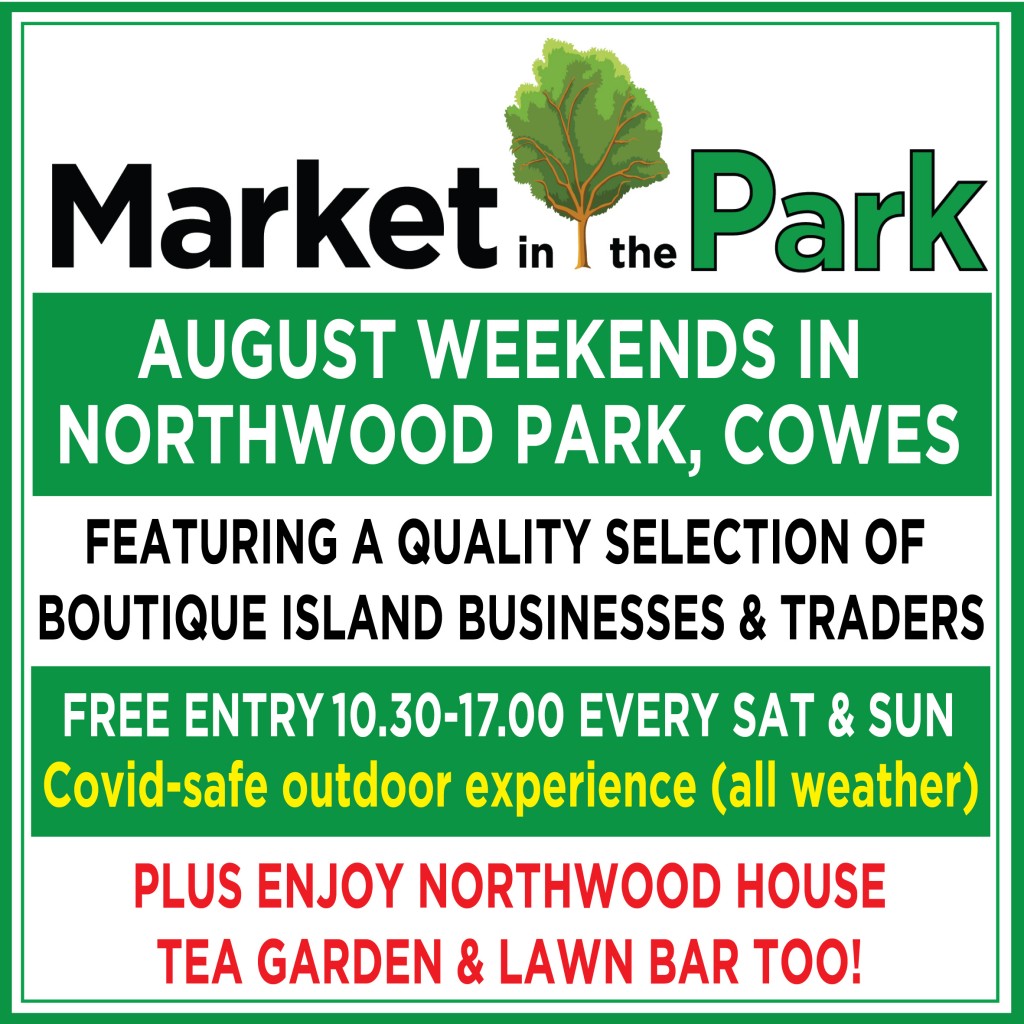 Now book and pay for your space below!: