Event Navigation
Northwood House Wedding Fair Weekend 2023 (with free time slot allocated tickets)
14th - 15th January
Free
Get inspired at the Northwood House Wedding  Fair  Weekend- Book your free entry tickets from 1st December 2022 for the weekend of 14th & 15th January 2023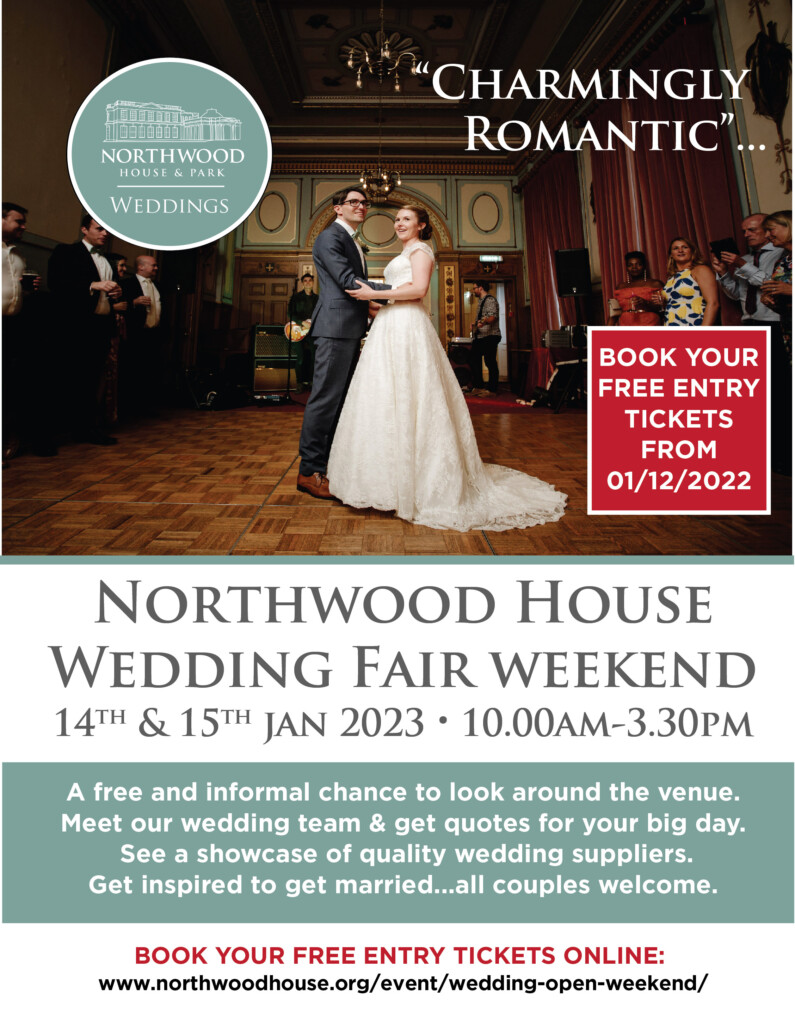 It's hard to beat Northwood House in Cowes as a place to get married and celebrate the most special day of your life.
On Saturday 14th and Sunday 15th January 2023 we are hosting our free to enter Wedding Fair Weekend, where couples have the opportunity to come along and see what Northwood House has to offer as well as see a range of the Island's best wedding suppliers who'll be exhibiting with us.
You can chat with a member of our wedding team if you want to who will show you the rooms we have to offer for ceremonies and receptions, give you an idea of costs or you can  just browse the exhibitor stands and displays for more inspiration.
Our team can offer their helpful knowledge and advice making it the perfect chance to find out everything you need to know in a relaxed and informal atmosphere.  If you have just got engaged, this is the perfect place to start your search for a wedding venue and some of the best Island wedding suppliers.
All though its completely free to attend the Wedding Fair Weekend, couples will need to book a time slot to visit  using the booking system below which will be open from 1st December. This helps spread arrival times and minimise the amount of persons in the venue at any one time, making it easier to chat with our team and ask questions if you want to.
Our suppliers will have set up display stands, but will not be in attendance personally to answer any questions and take enquiries for services, making the whole experience relaxed and hassle free without any sales pitches or awkwardness that most people experience at other wedding fairs.
Booking slots will be available every 20 minutes for couples and other family members attending. Of course couples/groups can stay and look/chat with us as long as they wish after they arrive. Free tea and coffee will be available for everyone who comes along.
Ian Gregory, Function & Event Manager of the venue said,
"People love Northwood House as a venue, it has so much freedom to make a very bespoke and special celebration.  Our iconic Grade II* listed property is one of the Island's most popular wedding venues, boasting a romantic charm that couples love.  We regularly host over 25 ceremonies and receptions across the year, so the Wedding Open Weekend is the perfect opportunity to come and have a look around, chat over your potential requirements and hopefully get inspired by what you see.
A number of key Island wedding suppliers will have dressed the venue and set up promotional displays, these aren't manned on the day so couples can wander around without anyone trying to sell their services which is much more relaxing for those who attend. "
The Northwood House Wedding Fair Weekend is free to enter, with doors open between 10:00 am and 3:30 pm on the days.  Just book your arrival time slot below in advance and turn up at your time to enter this friendly and informal event.
If you are unable to make the Wedding Fair Weekend, couples can arrange a free no obligation viewing of the venue at a time to suit by phoning 293642.  Some great wedding dates are still available for 2023 and 2024 with bookings now being taken up to the end of 2025.
Please book your free entry tickets below in one of our time slots.
Note: You only need ticket per couple or family group!